In this episode, Gordon has a conversation with Whitney Owens about being a caregiver and living into kindness and compassion through those challenges.  Whitney opens the show by talking about the book, Discernment: Reading the Signs of Daily Life by Henri J. M. Nouwen. Whitney reveals the most significant lesson she learned from that book and how it has informed her life as a mother. Then, Whitney dives straight into the importance of self-care and how it's an essential piece of kindness and compassion. Tune in as we chat about savoring the moment, mindfulness, and creating consistent daily habits around self-care.
Meet Whitney Owens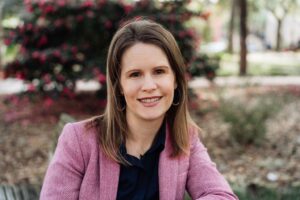 Whitney Owens is a licensed professional counselor, group practice owner, and faith-based private practice consultant. She is located in Savannah, Georgia, where she manages a private pay group practice with 10 plus clinicians. Along with running her practice, she consults practice owners around the country on how to start and grow a successful faith-based practice. She has spoken at numerous events such as both the Georgia and Maryland annual professional counselors conference as well as trainings for Florida's Counseling Association.
In addition to practice consulting, Whitney is an Enneagram enthusiast and offers workshops to business owners on using the Enneagram to help run their practice. In her free time, Whitney enjoys spending time with her husband and two girls, running, reading, and relaxing in the backyard.
To find out more about Whitney, visit her website: whitneyowens.com.  Or you can visit Whitney's practice website:  https://watersedgecounseling.com/
How You Will Learn More About Who You Really Are
Whitney recommends reading the book Discernment: Reading the Signs of Daily Life. Spiritual leader and counselor Henri J. M. Nouwen wrote about the essential question asked by every Christian and seeker: What should I do with my life? Nouwen was a successful professor and writer. He left it all behind to care for people who have nothing; that's where he learned everything about himself. This is the definition of kindness and compassion. Unfortunately, this is where Whitney struggles. Whitney can accomplish all these things professionally and personally. However, what is she doing if she can't be available to her daughter?
The Importance of Support When It Comes To Self-Care
It's really easy to get down on yourself. You will make mistakes and do the best you can; that's all you can give. Whitney says it's essential to reach out to other people and ask for help. For instance, Whitney was reluctant to accept help from others when it came to taking care of her child. You have to learn how to trust other people, or you're going to wear yourself out. It takes a village to raise a child, so remember to find other people and asking for help. Support is the most significant self-care gift that you can receive. To maintain self-care, you have to be able to take a step back when you need to.
Savor The Moment As Part of Your Mindfulness Routine
Another thing that helps Whitney on her journey is mindfulness. We need to be mindful of the moment we have with our loved ones. Whitney's little girl loves to snuggle. Find special moments with your loved ones; it's imperative. Love is when we take moments, sit in them, and enjoy them. For instance, sometimes, Whitney has to be up in the middle of the night to get her daughter back to sleep. Instead of feeling irritated that she's awake in the middle of the night, Whitney will savor the moment; she knows these precious times will not last forever.
Create Daily Habits Around Self-Care & Be Consistent
Find things you can do for yourself, like hobbies or exercise. It should be something that you're excited and happy to do. For example, Whitney loves to run, so she sets aside time each day to get out and run. Find small things that you can be consistent about. It should be something that you do for yourself. We all need to create daily rituals for ourselves to keep ourselves grounded. Movement is a way to clear your head, meditate, and pray. Sometimes you'll get your best ideas through movement. Overall, ensure you are consistent when it comes to your self-care habits.
Sign up to receive email updates
Enter your name and email address below and I'll send you periodic updates about the podcast.
About
L. Gordon Brewer Jr., LMFT |Podcast Host – Gordon has spent his career in helping professions as a licensed therapist, counselor, trainer, and clergy person.  He has worked with 100's of people in teaching them the how to better manage their emotions through self-care and the practices of kindness and compassion.  Follow us on Instagram and Facebook .  And be sure to subscribe to our newsletter.