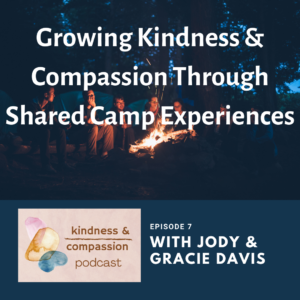 In this episode Gordon talks with Jody and Gracie Davis about the influence of camp experiences for children and youth along with meeting challenging situations in life. Summer camp experiences have, and continue to be, extremely important to helping young people form meaningful relationships. These camp experiences model what it means to live in community and gives space for vulnerability. And when young people get outside their comfort zone and are treated with kindness and compassion, it is truly a life changing experience.
Meet Jody and Gracie
Gracie and Jody Davis met while working at summer camp in college. Their love for the outdoors and the camp community inspired their work together. After working for the Episcopal church in varying capacities, Gracie and Jody were honored to accept the job of Directors at Duncan Park, Colorado. Now, they spread the spirit of kindness and compassion through hospitality, adventure and community. Gracie and Jody split their time between the Texas Hill Country at Camp Capers, and the Colorado Rockies at Duncan Park. They love road trips, diner food, hiking, and their two dogs Lincoln and Moose.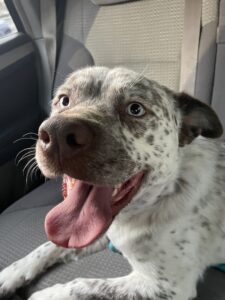 How Camp Impacts Young People's Lives
For anyone that has had a positive summer camp experience, needless to say it is life changing. There have been numerous developmental studies around camp experiences for children and youth. The research is clear that camp experiences have the ability to increase self-esteem, autonomy, social skills, and positive spiritual values in children and youth with the right camp experience.
Getting Outside The Comfort Zone
The impact of camp experiences comes through vulnerability. When youth are put in situations where they experience activities and interactions that they would not normally have, it creates a great opportunity for growth. The supportive atmosphere of camp allows them experience new things they would have never even dreamed of doing before.
Jody tells of an experience with a camper that had never been backpacking and the impact it made for him. He talks about the encouragement and challenge that this camper from the inner city had and the courage he had to show in doing something totally new and different.
Gracie talks about taking some of the campers rock climbing and how intimidating it is for many of them. And it is through this experience that they are given the opportunity to demonstrate courage which is totally life changing for most of them.
Building Relationships
Although camp experiences teach young people a lot about courage and self-confidence, the biggest impact comes through building relationships with the other campers and with the camp staff. There is something transformative that occurs for people when met with encouragement and unconditional positive regard. Camp experiences provide this. When young people spend a week or two with people that simply love them and give them a way to try new things without any fear of rejection, it makes an impact.
Getting Outside Their Comfort Zone in Africa
Jody and Gracie tell about the trips they have both made to Tanzania at different times. Jody said they were not there to help or change the people in any way. The whole purpose of the trips was to build relationships. It was about interacting with people that were of a totally different in their life experiences and culture.
Through this experience they not only learned so very much about other people and another culture, but also learned so very much about themselves. Being in a foreign country and away from the normal comforts of home made a big impact on both Jody and Gracie. They gained a greater appreciation and gratitude for the life they have.
Conclusion
As we grow and develop in life (and yes it's a lifelong pursuit), it requires getting outside our comfort zones. As Jody and Gracie have learned in their work with young people, the most life changing and transformational experiences come out of a place of kindness and compassion. Particularly when there is support given for new experiences and challenges, people can develop self-confidence and feel a sense of pride in themselves.
Gordon (00:20):
Well, hello folks. And what welcome again to the kindness and compassion podcast. And I'm so excited to have these two people, husband and wife team Jody and Gracie Dover, who I have known a long time. Um, and I was so excited that they agreed to be on the podcast. So welcome Jody and Gracie.
Jody (00:42):
Thank you.
Gracie (00:43):
Thank you so much.
Gordon (00:44):
Yes, it's uh, they are two of my, I'll have to, uh, little disclaimer here. They are two of my daughter's best friends and so they probably know more about my daughter than I do so, um, and, and, and they're sworn to secrecy, but that's okay. That's okay. That I can and treat that with kindness. So, uh, Jody Gracie, why don't you tell folks a little bit about yourself and where you are and how you've landed, where you've landed?
Jody (01:15):
Sure. We'd love to. Um, so right now, we're we service as the directors at Duncan park, uh, which is an Episcopal can and conference center, um, just outside of Boulder, Colorado, uh, but it is owned and operated by the diocese of west Texas, which is a very, very interesting concept. The di of the west Texas has three very unique camping sites under one camping ministry. Um, so they have camp capers in the hill country of, of Texas just outside of Santa Antonio, Mustang island down on the coast. Um, and, and then our site Duncan park up, up in the mountains. Um,
Gracie (01:51):
Yeah, so Jody serves as the director of Duncan park and I'm the food service director. And I also kind of am responsible for general hospitality retreat kind of stuff. So we kind of tag team the camp and retreat side of things. Um, we split our time evenly between San Antonio and Colorado. So right now we're right outside of San Antonio and wearing Texas. Um, and we just travel a lot and head back and forth. Um, we spend summer and fall in Colorado and winter spring here in Texas.
Gordon (02:24):
Yes, yes. Live in the dream. I, in my, in my, in my opinion, so, I mean, it's awesome. But one, one of the things I know that we wanted to talk about today on the podcast is, um, just about the influence of kind of camp experiences and that sort of thing for, for kids growing up. I know for you all, and also my daughter, Rebecca she's probably will be on here at some point if I can talk her into it. But one of the things I know is that being part of just camp life in general has been a huge influence in just kinda shaping who you are and, and just kind of your whole world view. And I know that it's a, it's a world view that is very much tied to kindness and combat, particularly for the, for the kids you serve and that sort of thing. So, yeah. So talk about that. I think that that's just really what I'm interested in hearing about, and I know the audience would be interested in hearing about that too.
Gracie (03:32):
Oh, for sure. Um, so we met working at grace point in east Tennessee, which is the Episcopal camp of the ISIS of east Tennessee. And we were on summer stock there for like four summers. And after we left camp, we continued to work for the diocese of east Tennessee and just kind of kept in that vein. Um, but really, you know, the thing that stuck out to us the most is when we got married, it was like everyone that was at the wedding was somehow connected to us through camp. And you know, that community just always lifted up our relationship and supported us, um, and you know, really encouraged us to communicate with one another and really grow alongside one another. And so there's this, like, I guess this facet of working at camp where you're like hyper aware of relationships and how you can deepen them and how to like meet people where they are. Um, so it makes for, you know, lifelong friendships like us with Rebecca and obviously, you know, we ended up getting married. So that was really helpful and the development of our relationship and yeah, it's just a place where you can really meet people where they are based on the fact that everyone has kind of let their guard down.
Gordon (04:47):
Mm. Yeah.
Jody (04:49):
And for me, um, everything that Gracie said, it rings true for me as well. But, uh, for our young people that we serve something that's, that's kind of our main consistent, um, is it really gives young people, especially in the Christian community, their first example of what it looks like to be part of the wider body of Christ. Um, they, they they've been a part of their parish. They've been a part of maybe their youth group and that small community that they're very, very comfortable with. Um, but, but for a lot of the kids that we serve, this is their first experience with that larger community and, and, and learning how to live intentionally, um, in, in a way where we model how, what it means to love each other, what it means to lift each other up and encourage one another. Um, and that, that's something that is, that rang true for me as a, as a young person, as a camper. But it's something that, that I think so special. Um, we can do all the activities and have all the fun we want, but really when it boils down to, to what it means to, to truly live in to camp ministry, um, it it's the bond that, that is formed between the campers within a, a, a four or five day period. It's an incredible thing to watch.
Gordon (06:03):
Right. Right. Well, one, one of the things that I know, I, you know, kind of a little bit of my history with that is that one of the things that I did, uh, few summers was to serve as kind of a two Caplan for the camp. And one, one of the things that I noticed is, is that it gave by, you know, taking, taking gig young people, people, and putting 'em in a situation that was totally kind of new to a lot of 'em. They had never really, I, I remember one of the camps that we had, it was really kinda some of the inner city kids that had never really been outside their neighborhoods or where they lived and, and bringing them into a situation where it was totally foreign. And they had to be totally vulnerable to the situation. And when it was met with kindness and compassion, and really just acknowledging the uncomfortableness of it, of it all, um, it really changed the way that they saw themselves and ch saw each other, um, in that they, it, it was a safe place for people for kids to be,
Gracie (07:15):
Oh, for sure. And we deal with a lot of that kind stuff at Duncan park, because we're primarily an outdoor adventure camp. So we get kids from, you know, all walks of life that are coming out and sleeping in a tent for the first time and going on a hike for the first time and putting these, putting themselves in these very vulnerable positions. But, you know, with the support of the camp community, they end up really enjoying it and like really coming out of their box. And they have a great time, man, who wouldn't we're in Colorado, but like, yeah, yeah. It, it's really interesting to see that transformation happen throughout the course of the week. They just totally let their guard down and, you know, feel comfortable with us and the staff and their fellow.
Gordon (08:00):
Yes. Yes. So, um, to put you on the spot a little bit, um, can either of you maybe think of a story of a particular kid or whatever that was just that you saw being totally changed by their camp experience? I mean, just an, a big, the pack that it made for them.
Gracie (08:22):
You do more with the campers one.
Jody (08:24):
Yeah, yeah, sure. Um, there's one, I mean, honestly, there are, there are lots of, of, of examples of that, um, working in camp history for, for a long time, or even a short time, you see it, uh, weekend and week out, but there's one example in particular, um, from this past summer, we, we were hosting a, a group that was specifically a backpacking group and they, they came up to, to Duncan park and we, we host a, a lot of sessions that have, have a variety of activities, but this in particular, we were going to be on trail for four nights, uh, or four days, three nights. Um, and, and so it was an intensive, uh, back country trip. And it was a, it was a group of 12. Uh, and, and when they arrived, we, we provide all of their gear. We provide everything for them.
Jody (09:12):
Um, so we were pull out the gear, getting everything ready to go. And I hand one of the youth a backpack, and he says, what's this, what's this, this, this is a backpack. This is what we'll use. Uh, as we work through our week, this week, he said, where are we going? We're not staying here. Um, he had no idea. He had no idea that he was going on a back country trip. He was told that he was going on a trip to Colorado. Um, and that, that he, and he didn't realize that, that, that it entailed, uh, actually going into the woods and living in the woods. Um, and, and there was, he, he took it somewhat well, but, but you could tell that there was this sense of, of panic, this sense of, of unknown. Um, and, and he didn't really, he, he wasn't used to anything like that.
Jody (10:04):
Um, and, and it was very interesting because the first couple of days, it, it wasn't that he didn't wanna be there, but you could tell that he was unsure. You could tell that he wasn't comfortable. Um, and, and as we continued on the up, uh, the staff and the campers alike, uh, J just kept trying to support him and kept trying to encourage him, um, to, to live into it. We're, we're here. Uh, let's be present, let's be together. Let let's really make this, make this the best situation that it can be. And he came out of that week, um, really enjoying and, and, and really he pushed himself way, way out of what he ever imagined his comfort zone be. Um, and, and, and when I talked to him at the end of the week, he not only let me know that he, he was so happy to make friends, but he, that he was so joyful that he was able to have that experience.
Jody (10:57):
Um, and, and that, that it was something that he'd remember through us, his life. Um, wow. And, and I may never see that camper again, I may see him year after year. Um, but, but for him in particular, it was this, it was this moment of realization that he was able to do something that he never even thought that could accomplish. Um, he did it well. So that, just that, that sense of transformation of, of not only being able to physically do something that you didn't think you could do, but also spiritually and emotionally, um, being able to, to put yourself out there to make new friends, uh, people that you, you, you've never really spent time with, you get on a plane and travel a thousand miles and then go into the back country with them. Um, that that's an intimidating thing. Yeah. Um, especially for our young. And so just, just to be able to kind of take it by the horns and, and, and really make it the best trip that he possibly could of. I was, I was just so proud of him, uh, to, to do that.
Gordon (12:01):
Yes, yes.
Gracie (12:03):
Sorry, what were you saying, Gordon?
Gordon (12:04):
No, I said I was, uh, I was just thinking, uh, as you were telling that Jody, I was reminded of, uh, of Bernie NA brown, who you guys might be familiar with. Who's done a lot of writing on courage and on vulnerability and that sort of thing. And one of the things about that is that I think that, um, she, she says essentially that you cannot have courage without vulnerable. In other words, you, you courage doesn't even occur without vulnerability. And I think when we can create the space for people to be vulnerable, they experience courage for the first time. And the, and, and when we do that, it's it's life changing.
Gracie (12:54):
Oh yeah. And prime example of that at Duncan park is like, so we do a different activity each day. And the last full day of camp Thursday is rock climbing day. And we'll go rock climbing in Boulder canyon, which is, you know, very popular rock climbing spot. And it's always like, everyone is terrified on the outset because it looks like this very big, crazy daunting thing. Um, but you know, our guys are awesome. They work with them. They're very honest with them. And it's always the kids that are the most afraid they wait until like the last probably 30 or 45 minutes. And they're like, okay, I'm gonna get up on the wall. I'm gonna do it. I'm gonna do it. And then they're the ones that get all the way up to the top. So it's like what? And given the opportunity to be really courageous, they're like, all right, going in, I'm doing this. Yes. And it's so cool. Watch that happen. They just totally, yeah. Take it by the horns and like go with it. It's great.
Gordon (13:48):
Yes. Yes. I love it. I love it. So, yeah. So to, to change gears a little bit, um, um, I know one of the things I know about, um, Gracie and Jody is, is that they had a pretty life changing event a few years ago when they went to Africa. So you wanna say some, something about that and just, uh, what, what impact that made for you in your lives and how that, how that changed you?
Jody (14:20):
Absolutely. Um, so the first time that I went with the diocese east, Tennessee, um, I was 19 years old. And, uh, it was, it was an experience that on the front end, I thought, well, I didn't know, know what to think. First of all, um, I'd been out of the country, but obviously Africa is, is a totally different animal. And, um, I, I kind of blindly trusted, uh, some people that, that I really, um, really respected, um, and, and, and really looked up to, and they said, I, I really think that this is something that, that would be beneficial to you. Um, and so I went and not knowing what to expect, not knowing what we were going to do. Um, and, and what I realized was that we were just there to build relationships. We were there to trust one another. We were there to listen to the people, um, and, and we weren't there to change anything.
Jody (15:19):
We were, we weren't there to, to be any kind of savior. We weren't there to, to really do any, any tangible, physical work. Um, but, but the work that we did, um, what was more letting, letting us know that we have brothers and sisters in, in Christ all across the world, um, letting, letting our, our friends in Tanzania know that, that they have brothers and sisters and friends all across the world and, and being able to be a part of, um, a part of something even bigger than anything that I could do myself, uh, was huge. It, it, it really kind of resembled part of the camp community, but on a much bigger level, um, it, it's still an intentional community and it's still, uh, kind of what I mentioned earlier. It, it exemplified what it means part of the wider body of Christ, not just your home community, um, and, and camp kind of gives you a taste of that, but going to Tanzania and, and being a part of the Anglican communion there really solidified that this is, this is much bigger than me. Um, and, and, and I'm so happy to be a part of it. It, um, but there is good work being done all over the globe. Um, it's, we're, we're just a small piece
Gracie (16:40):
For sure. And, well, my experience in Tanzania was more, cuz we both went separately. Jodi went twice and then I went once by myself and, um, my experience was more about letting go and not, cause I love to be in charge. I love a plan. I love to know what's going on. Um, and that is the opposite of the experience that you have in Sannia. So for me, it's like, I guess the best way to describe it is every day you get in this Rover and everyone's just kind of piled in there and then you drive on these roads for like hours, these roads that are like, obviously not super well maintained cuz you're in the middle of Africa and you know, you're just kind of like bouncing along things are bumpy and the guides Pascal and Steven will be like, Hey, listen, you know, just don't fight it.
Gracie (17:27):
Like let your body just kind of move with the Rover. And like you won't have a sore back at the end of the day. And so I think that's the best way to describe it is if you just kind of, you know, roll with it and exp let it, let the experience happen, you know, you're gonna get the most out of it. Um, but the second you try to control and try to micromanage that's where you're gonna run into problems. So that was the biggest takeaway for me was just like, you know, listen, like you can just ride in the Rover, you don't have to be driving like it's okay. You don't have to know what's going on at all times.
Gordon (18:00):
Right, right. Oh, I love that. I love, I love that story because I think that just has so many implications just across, you know, just thinking about mindfulness and thinking about, uh, being able to, um, to let go of things, forgive all of that kind of stuff. Ties, ties into that. And I think the thing that, um, I think for, for one thing that I would guess that you both got out of going place like Tanzania is that you really did have to kinda let your guard down and, and you also, it, it takes away a lot of judgment that people tend to have about other cultures and other way people's, people's way of living or, and, and that sort of thing that when you understand the backstory of someone, um, it, it gives you room to have more compassion for what they're going through and what their, what their life is about. So I love that and I love that. I love that metaphor. It, that just a writing in the, in the, the land Rover and trying to fight all the bumps and all of that sort of thing and just going with it. I love that.
Gracie (19:16):
Oh yeah. And I mean, thinking back on it, I think going to Tanzania really prepared us for our experience at Duncan park because, you know, there's a lot of just like going with it, making and do, um, figuring things out as you go again, meeting people where they are understanding people for who they are as people and not for like you have, and, you know, at Duncan park, it's so similar because you know, you're up in the wilderness, you're like an hour from any kind of like definitive care. You're just kind of like isolated and you know, so many things happen and people have to trust you like that. And being able to be on the receiving end of that helps you be the agent for that so much more, I think.
Gordon (19:59):
Awesome. For sure. Yeah. Yeah. Well, uh, guys, I know we could probably talk all day and I wish we were in person because I'd love to give you both a hug, but I just, uh, we're in two different places, but, um, tell folks how they can get in touch with you all, if they want to find out more about Duncan park and also maybe connect with you guys.
Jody (20:23):
Sure. Yeah. So, um, like I said, Duncan park is, is owned and operated by the diocese of west Texas. Um, so, uh, if, if anybody's interested in Duncan park or any of the other camps here, uh, D wtx.org is, is where you would find us. Um, and like ay said earlier, you know, this is something that, that we truly have a passion for that, that we love to do. Um, so if anybody ever has any questions, that's not necessarily Duncan park related, but just camp related. Um, it it's something that, that we, we love to talk about. Um, so if anybody's thinking about pursuing something like that, or even just youth ministry in general, um, we'd love to talk about it.
Gracie (21:03):
Yeah. You can reach out to us via email Duncan dot park. That's D U N C a N dot park D wtx.org. Um, Duncan park is also on Instagram at Duncan. Um, so you can see kind of, you know, the natural surroundings that we're in and all that kind of stuff. Um, but yeah, if you're interested in youth ministry or camp ministry, or like just, you wanna have a deep combo about whatever, shoot us an email and we'll chat with you, we love that kind of stuff.
Gordon (21:31):
Awesome. Awesome. And we'll have, we'll have links in the show notes and the show summary for people to access that easily. So well, Jody and Gracie, I'm so glad to see your faces and, um, um, good to see you. Yes. Um, for, for, I was listening to the podcast, we do this by zoom, so that's what I meant. So, um, anyway, I hope to be able to get out there. I was close to coming out there last October, but I think you guys have probably already left, but I didn't get to Colorado after all, but anyway, gonna hopefully get out there and get to hang out with you guys.
Gracie (22:07):
Oh, please do. Yeah, we would love to have you we'd love visitors. We'll show you around. Take you hiking, all that good
Gordon (22:12):
Stuff. I'd love to go on that three night backpacking trip. That sounds like my thing.
Gracie (22:18):
Oh yeah. It's awesome.
Gordon (22:20):
Awesome. All right guys, take care.
Jody (22:23):
Thank you.
Gracie (22:23):
Thank you, Gordon. Say Hey to Sister and the Kitties for us.
Gordon (22:26):
Okay. You sure? Thanks.
Sign up to receive email updates
Enter your name and email address below and I'll send you periodic updates about the podcast.
About Gordon
L. Gordon Brewer Jr., LMFT |Podcast Host – Gordon has spent his career in helping professions as a licensed therapist, counselor, trainer, and clergy person.  He has worked with 100's of people in teaching them the how to better manage their emotions through self-care and the practices of kindness and compassion.  Follow us on Instagram and Facebook .  And be sure to subscribe to our newsletter.